In Excel, spell checker is a tool that used to recognize errors incorrectly-spelled words. Which is highly useful since you don't have to manually check all the words that you typed in excel.
Where is it?
1 - The easiest way to open Spelling check is to press the F7 of keyboard. Then the Spell check dialog box will pop.
2 - You can find the Spell Check button in the REVIEW tab as shown below.

3 - You can also find the same Spell Check button in Quick Access Tool bar. However, you have to enable this this button using the drop-down menu next to the Quick Access Tool bar.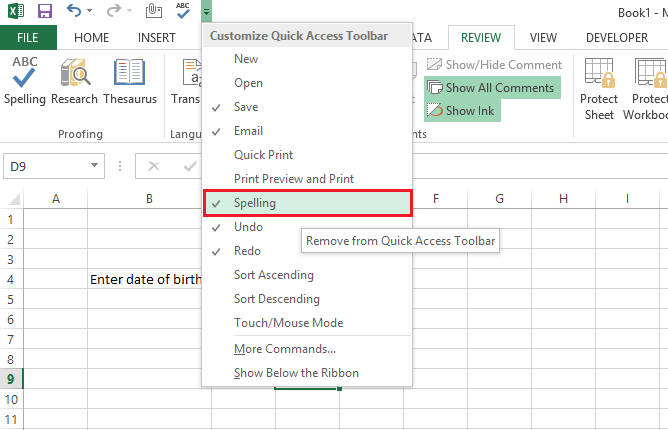 One of the above mentioned method can be used to open Spell Check in excel, the Spell Check dialog box will look as follows:
How to use it?
When you open this dialog box, it will find the spell mistakes in the worksheet and displayed.
The word with spell mistake (Entar) is shown at left top box. The possible suggestions are listed and you can select the one that you want to change to.
If the word that identified as misspelled, you can accept the mistake and ignore it using Ignore Once or Ignore All.
If you want this spelling mistake not to show in the future or it is correct but not in the Excel dictionary, then you can add that word to Excel using Add to Dictionary. Then this selected word will be identified as a correct word in future.
If you want to use one of the suggestions given, you can use Change or Change All buttons. Auto Correct option is used to command Excel to input most appropriate word.
You can use Options button to further customize how Excel corrects and formats your text.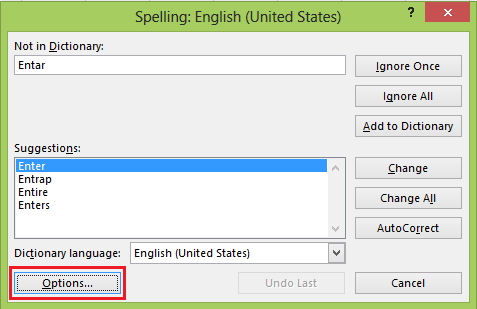 The Excel Proofing Options dialog box is shown below.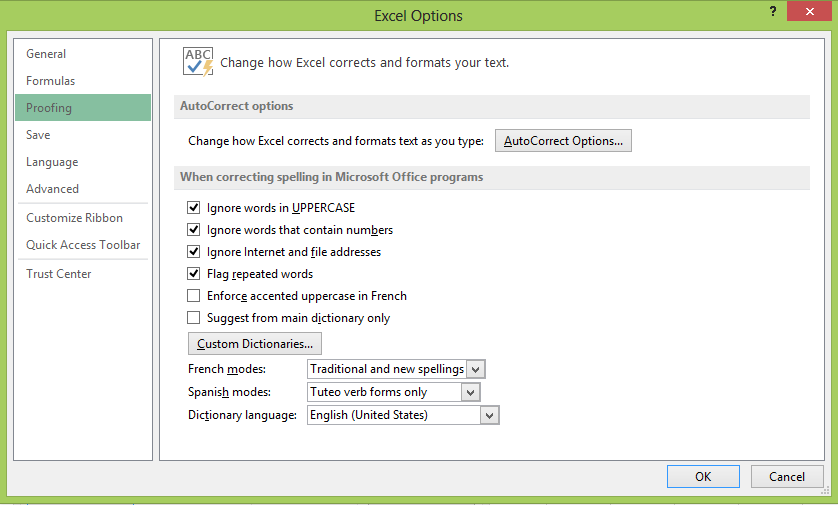 Once you complete your Spell Check and/or there is no incorrect words then the following pop-up message will be displayed.