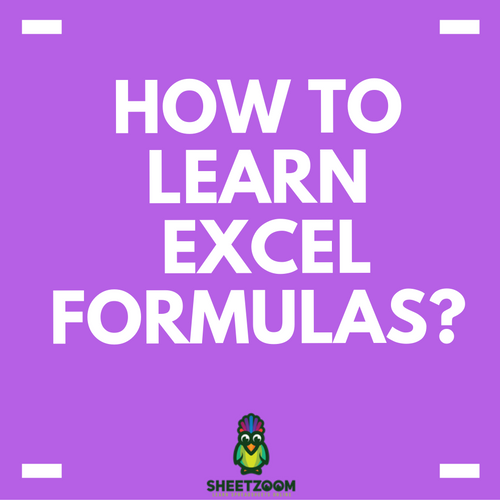 What is a formula? Talking generally, a formula is a way to calculate a mathematical equation. It is used to calculate both simple as well as complex equations. The primary purpose of using a formula is adding ease in our day-to-day tasks. In fact, there is no need to perform the same task again and again. Just use a formula and get it done in seconds.
You can improve yourself by participating in online excel courses.

- Master Lookup Functions
- Master IF Statements
- Error Handling
So what is an Excel formula? Excel formula is like a normal formula used to find out the result of what the user has entered. Excel makes use of data present in the cells to find out the result. The cells are used as a variable as well as reference. One amazing thing is that Excel doesn't limit itself only to usage of cells. In fact, it provides the opportunity to make equations to be solved similarly every time.
There are some predefined formulas in Excel as well. The number of formulas is different for each version and type of this tool. These formulas are located within Excel and they clearly show what variables are involved. You only need to know how to associate the cell.
Another amazing feature of Excel is that it allows the users to make their own custom formulas. This feature is loved by all people since it adds a lot of ease to their daily lives. It provides you with different countless ways to perform calculation. The easiest way to create your own formula is through the Formula Bar.
You can start learning excel immediately.
Excel also allows you to Edit the formulas. All you need to do is select the cell containing the result and change formula from the formula bar. You will see that as the formula changes, the result also changes. But you need to understand how the formula works properly.
You do not need to memorize the formulas. You only need to learn how to make use of them and how to create them. Sheetzoom.com is an online platform that can help you learn Excel formulas efficiently. It will start from the very beginning through teaching you the basics of formulas and then it will describe how to use and create them. The whole program is designed in such a way that it will add a lot of ease and comfort to your daily working. The tutorials are for everyone out there and the best part is that they are free. Visit Sheetzoom.com today and have a look at all the available tutorials that can make you an expert in Excel formulas.