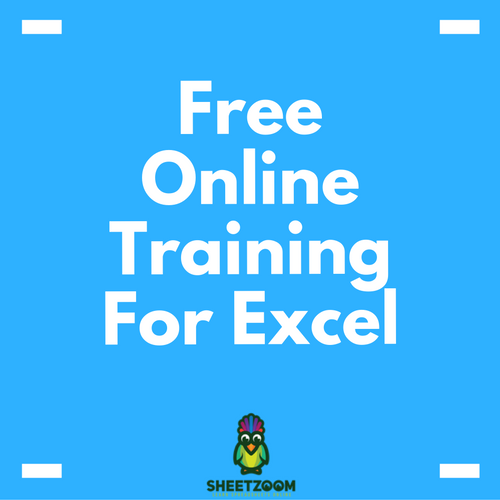 Excel is a life saver at work and there is always a free online training for Excel in the internet. At Sheetzoom, we offer free excel training using Excel Online and you can learn by doing. The key to Excel learning is actually solving real problems with Excel.
Here a few free Excel courses you can take online:
A free Excel training video can be found everywhere however the key to learning is actually doing it. Take any of the above exercises to start your Excel training or advance your Excel Skills with one of the following Excel training modules:
See all track to learn Excel.
Why You Should Learn Excel?
Why shouldn't you? Excel is a super power tool that makes your daily life simpler. It can make calculations of complex formulas easy in different areas. From math to text, from database to conditional formulas, Excel offers the largest set of tools for your daily needs.
Excel is a very good reporting tool, which is actually very powerful. You can slice and dice your data, form reports with filters and charts. Many companies actually run on Excel reporting capabilities and it can save you tons of time if you are an expert in Excel reporting.
Excel is universal tool that can be used by everyone at work. It is used from the entry level staff to c-level executives. If you haven't used Excel at work, then you are not using your full potential.

Where Should you get Excel Training? Free and Online?
Well there are two taught of school in Excel training online. Videos and Hands-On. Video trainings are the most common yet less powerful teaching method. However, learning Excel by doing is the fastest way to start using Excel at work. Sheetzoom uses the hands on approach with free and online Excel training modules.
See all free Excel Courses at Sheetzoom
Where Should I Start?
If you are complete newbie, you can start from the Beginning Excel course. If you want to improve your skills on formulas, you can use the Master Text Functions, Master If Statements, Master Math Functions, Master Lookup Functions. There is Reporting and Charts tracks where you can use Pivot Tables. So spend some time using Sheetzoom and see all courses.